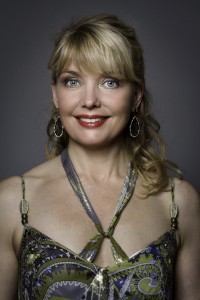 Elsebeth Dreisig is one of Denmark's leading lyrical sopranos, having sung all of the greatest roles of her repertoire. She continues to hone her skills and expressions and has recently received great recognition for her interpretation of 'Butterfly' on Malmø Opera.
Den Jyske Opera has been the centre of Elsebeth Dreisig's artistic activities and she has achieved great success in an excessive amount of roles such as Ann Truelove/THE RAKE'S PROGRESS, Aase/DROT OG MARSK, Pamina/DIE ZAUBERFLÖTE, Zerlina/DON GIOVANNI, Eliza Doolittle/MY FAIR LADY, Hanna Glawari/THE MERRY WIDOW, Antonia/THE TALES OF HOFFMANN, Nannetta/FALSTAFF, Violetta/LA TRAVIATA, Mimi/LA BOHEME, Nedda/I PAGLIACCI, The Countess/LE NOZZE DI FIGARO, Marcelline/FIDELIO, samt Illia/IDOMENEO and Juliette/DIE TOTE STADT – which was awarded a 'Reumert' as Opera of the Year.
Elsebeth has been frequently engaged at The Royal Danish Opera in Copenhagen and appeared as Enke Dronning Juliane Marie/LIVLÆGENS BESØG. The world premiere was awarded a Reumert as Opera of the Year.
During her career Elsebeth has participated in several premieres such as DON JUAN VENDER HJEM FRA KRIGEN, Wayne Siegels/LIVSTEGN and  in 2012 Lars Klit/ANGELO.
Additionally Elsebeth is a sought-after concert singer at all the major Danish orchestras, and has sung the entire classical repertoire.
Elsebeth completed her education at Det Kongelige Danske Musikkonservatorium with Professor Kirsten Buhl Møller and has studied under Ileana Cotrubas, Ingrid Bjoner, Mikael Eliasen, Jeffrey Goldberg and Maria Cleva.
In the season 20/21 Elsebeth can be found singing her signature part of Chio-Chio-San in MADAME BUTTERFLY at Operaen i Svendborg.
Hoffmann/ELLA A FUI LA TURTELLE
On Stage represents Elsebeth exclusively/mondo.