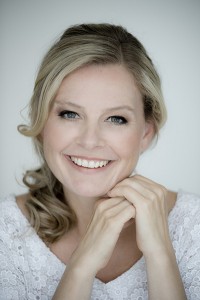 The Danish soprano Ditte Højgaard Andersen is recognized as one of Scandinavia's leading coloratura sopranos. With her graceful appearance and vibrant timbre she interprets even the most demanding roles effortlessly. She holds Baroque music close to her heart, but during the last years she has developed her repertoire to include Mozart as well as Richard Strauss.
Ditte started her career as a principal soloist at the Deutsche Oper Berlin where the highlights of her engagements included Sophie/DER ROSENKAVALIER, Susanna/LE NOZZE DI FIGARO, Fiaker-Mili/ARABELLA, Waldvogel/SIEGFRIED, Lisa/LA SONNAMBULA, Pepa/TIEFLAND and a staged performance of Carmina Burana.
Recent opera engagements have included Susanna/LE NOZZE DI FIGARO, Ciréne/ARISTEO and Bauci/BAUCI E FILEMONE, Blondchen/DIE ENTFÜHRUNG AUS DEM SEAIL, Cephie/ZOROASTRE, Servilia/LA CLEMENZA DI TITO, Amor/ORFEO ED EURIDICE and Papagena/DIE ZAUBERFLÖTE, Servilia/LA CLEMENZA DI TITO and Artenice/SESOSTRI.
Ditte is a very sought-after concert singer and her concert repertoire includes Händel's MESSIAH, Haydn's DIE SCHÖPFUNG, Mozart's MASS IN C MINOR, Orff's CARMINA BURANA, Bach's ST. MATTHEW PASSION, ST. JOHNPASSION, MASS IN B MINOR and CHRISTMAS ORATORIO.
Ditte has worked with a number of high-profiled conductors from all over the world including Gian-Carlo Andretta, Fabio Biondi, Thomas Dausgaard, Peter Dijkstra, Adam Fischer, Rafael Frühbeck de Burgos, Christopher Hogwood, Graeme Jenkins, Andrew Manze, Paul McCreesh, Bobby McFerrin, Marc Minkowski, Lars Ulrik Mortensen, Daniel Oren, Juan Bautista Otero, Hans-Christoph Rademann, Lawrence Renes, Christophe Rousset, Ulf Schirmer and Andreas Spering
Future engagements include Eurilla in Haydn's ORLANDO PALADINO at the Drottningholm Festival in Stockholm, Mozart's MASS IN C MINOR in Frankfurt, Toulouse, Grenoble, Lyon, Krakow, Budapest and Tokyo with Les Musiciens du Louvre and the conductor Marc Minkowski, Rosmene in Handel's IMENEO in Hamburg with the conductor Fabio Biondi as well as Bach's MASS IN B MINOR in Vienna, Essen, Amsterdam and Lausanne with the conductor Marc Minkowski
Ditte has recorded Servillia/LA CLEMENZA DI TITO with Adam Fischer, Bauci in Gluck's BAUCI E FILEMONE and Cirene /ARISTEO with Christophe Rousset, Artenice in Terradella's SESOSTRI with the conductor Juan Bautista Otero, and a CD with arias and cantatas by Italian baroque composers for the record label Berlin Classics.
In 2004 Ditte graduated from the Royal Danish Academy of Opera in Copenhagen with Susanna Eken as her voice coach.
On Stage represents Ditte exclusively/mondo
Brahms/REQUIEM