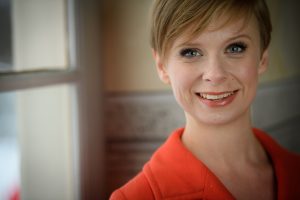 Linnea Andreassen is a Swedish mezzosoprano from Uppsala. She has studied at the University College of Opera and the Royal College of Music in Stockholm where she is coached by Erik Årman.
Linnea made her debut in 2015 as one of three 'Adelige Waisen' in Christof Loy's production of DER ROSENKAVALIER at the Royal Opera in Stockholm. In 2017 she made her debut at Malmö Opera singing the part of Der Trommler in Viktor Ullmans DER KAISEN VON ATLANTIS and in the summer of 2018 she returned to the same stage to perform the role as La Feminste Atheé in Isabell Aboulker's SURPRISES DE L'ENFER.
Linnea is a soloist in high demand both for standard repertoire and contemporary music and in 2018 she will perform as the Squire Jöns in João Mcdowells newly written opera THE SEVENTH SEAL based on Ingmar Bergman's movie of the same name at the Bergman Week in Stockholm.
Linnea finished her studies in 2017 at the University College of Opera and during her education she has performed the roles of Nancy/ALBERT HERRING, Sesto/LA CLEMENZA DI TITO, Rosina/IL BARBIERE DI SIVIGLIA, Anna/DIE SIEBEN TODSÜNDEN and Dinah/TROUBLE IN TAHITI.
In spring 2018 Linnea was the first person to receive Vännernas Opera Scholarship from the Friends of Drottningholms Slottsteater, awarded by his majesty Carl XVI Gustaf, the King of Sweden, during a concert at the Drottningholm Court Theatre.