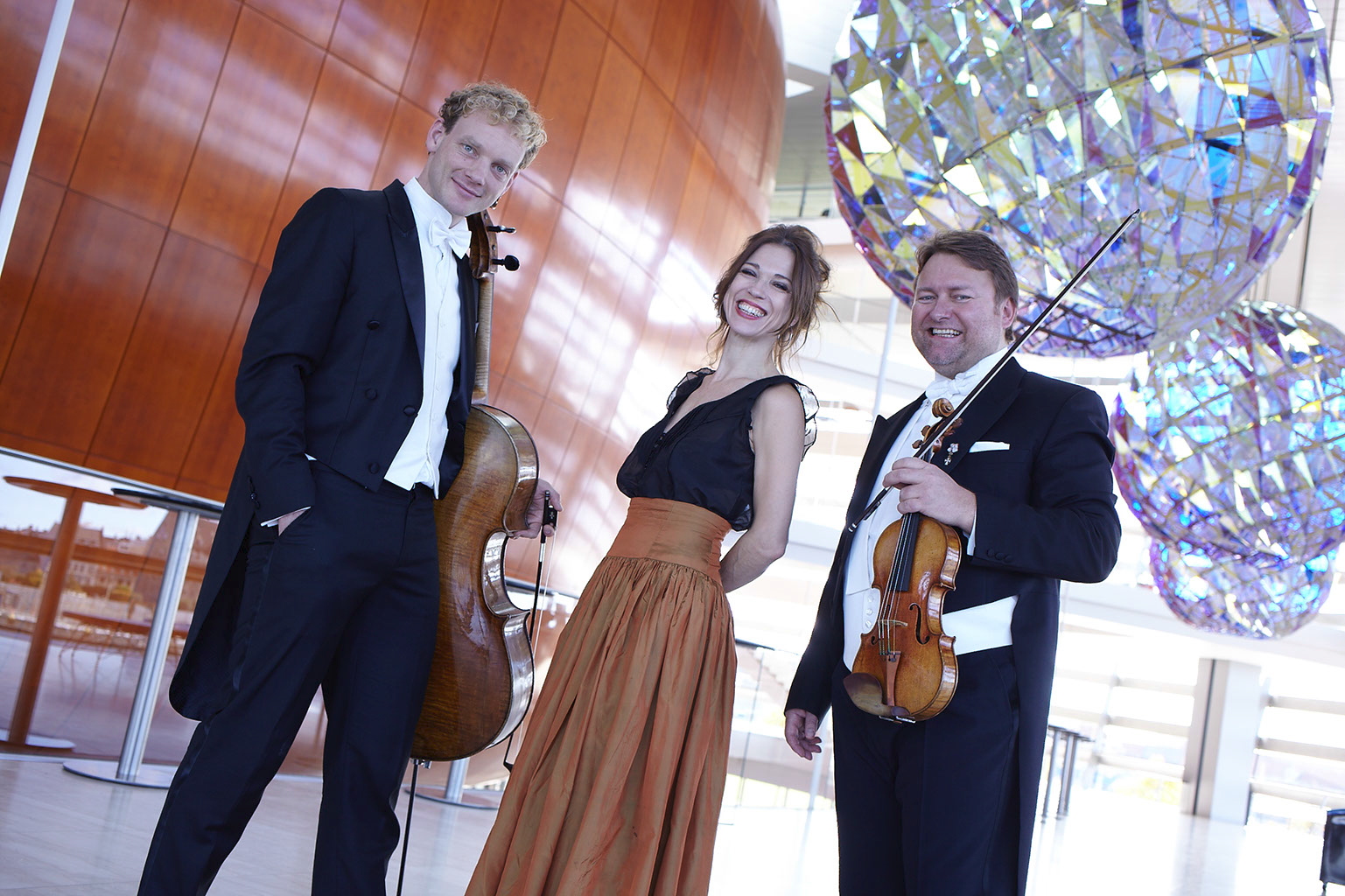 The Danish Piano Trio
This recently-established ensemble comprises three of Denmark's most outstanding musicians. Their first recording, featuring forgotten works by Danish romantic composers, will be officially released in Europe this November and in the USA on the occasion of their American debut at Weill Recital Hall at Carnegie Hall, New York, in December.
Apart from a keen focus on the classical repertory for piano trio, this ensemble also wishes to reflect the music written in its region; the Nordic countries in general and in particular Denmark.
Lars Bjørnkjær
Born in 1968 in Los Angeles, Lars Bjørnkjær is a graduate of the Royal Academy of Music in Aarhus, Utrecht Conservatorium in the Netherlands, class of Viktor Liberman and the Juilliard School in New York, class of Sally Thomas and Dorothy Delay.In 1993 he was appointed concertmaster of the Royal Danish Orchestra.
As a soloist Bjørnkjær has appeared with conductors such as Christian Badea, Josef Suk, Fabrizio Ventura and Michael Schønwandt. He has given solo recitals throughout Denmark and in numerous European countries as well as radio- and TV appearances in Europe and the United States.
The recording of concertos by Johan Svendsen and P.E. Lange-Müller with Giordano Bellincampi and the Aarhus Symphony Orchestra has received extremely positive reviews; according to The Strad: "With intensity and a glorious singing tone … and highly eloquent phrasing this violinist's devoted vehemence convinces us that this is a lost masterpiece. "
Lars Bjørnkjær is the initiator of a number of initiatives in the Danish music scene. These include Danish Strings, an annual summer course for strings and the creation of the Royal Orchestra Chamber Orchestra's concert series; he is also co-artistic director of the Anneberg and Samsoe Festivals.
He has received the Knight's Cross, Frederik the 9th's Commemorative Medal and Knight of 1st degree. On the board of the Victor Borge Scholarship, he was a member of the jury at the Carl Nielsen International Violin Competition.
Lars Bjørnkjær plays the Royal Theatre's Stradivarius 'Yoldi -Moldenhauer' of 1714.
Toke Møldrup
Toke Møldrup has given recitals in some of the world's major concert halls, among them the Weill Recital Hall at Carnegie Hall in New York, the Wigmore Hall in London, Daiichi Seimei Hall in Tokyo and the Musikverein in Vienna. As a soloist he has performed with many orchestras in Europe with conductors such as Francesco Angelico, Aldo Ceccato, Sanntu-Matias Rouvali, Thomas Søndergård and Joshua Weilerstein. His international awards include First Prize at the European Broadcast Union's New Talent Competition in Bratislava and the Grand Prize at the Melbourne International Chamber Music Competition with the Paizo Quartet, as well as the first prize at the Danish String Competition. Toke Møldrup has received numerous grants and honours, among them Queen Ingrid's Grant of Honour, Leonid Sonning's Scholarship and the Danish Music Critics' Artist Award. In addition to his studies in the music academies of Aarhus, Copenhagen and Karlsruhe, Toke Møldrup studied privately and at master classes with great teachers such as Valter Despalj, David Geringas, Hans Jensen, Ralph Kirschbaum, Yo-Yo Ma, György Kurtág, the Amadeus Quartet and the Alban Berg Quartet. He has worked as Principal Cellist for the Danish Radio Symphony Orchestra and the Royal Swedish Court Orchestra and was appointed Principal Cellist with the Copenhagen Philharmonic Orchestra in 2010. Since 2004 he has been teaching at the Royal Danish Academy of Music.
Toke Møldrup plays a rare David Tecchler from 1697 kindly lent to him by the Augustinus Foundation.
Katrine Gislinge
Katrine Gislinge, has established herself as one of Scandinavia's most significant pianists
performing both solo and chamber music concerts throughout Europe and USA.
She holds a soloist diploma from the Royal Danish Academy of Music where she studied with Anne Øland and has undertaken further studies with Seymour Lipkin in New York, Boris Berman at Yale University and Peter Feuchtwanger in London.
Performances at many festivals including Lockenhaus Festival, Austria, Festival de Radio France et Montpellier, France, Cervantino Festiva, Mexico, Bergen Festival, Norway, and London City Festival in Britain.
Musicians and conductors whom she has performed with and include Gustavo Dudamel, Eri Klas, Kurt Sanderling, Heinrich Schiff, Gidon Kremer, Emanuelle Pahud, Gerard Causse, Jin Wang and Augustin Dumay.
She has appeared in several radio and TV programs, and has been a judge at numerous piano competitions.
 On Stage represents The Danish Pianotrio exclusively in Denmark, Sweden, Norway, Finland and Iceland.