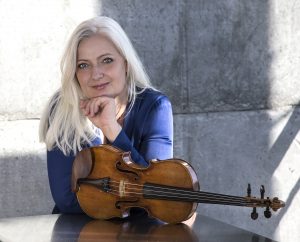 Christina Åstrand is having the most remarkable career as a violinist in Scandinavia. She started her education at Royal Jutland Music Conservatory at the age of 13 and won the position as a concertmaster of DR Symphony Orchestra at the age of 22. A position she still holds. Since her soloist debut in 1990 things have  moved rapidly for her and she is a frequent soloist with the leading Scandinavian orchestras.
She has recorded and premiered several violin concertos, and is one of the few violinists in the world to master György Ligeti's Concerto for Violin and Orchestra.
Her CD recording of Ligeti's and Per Nørgård's violin concertos with the Danish National Symphony Orchestra and Thomas Dausgaard won her the distinguished French Diapason d'Or award in 2001.
She has also performed the classical violin concertos by Beethoven, Mendelsohn, Tjaikowsky, Prokofiev, Mozart and many others. Especially in the Nordic countries she is a frequent violin soloist, and her CD recording of violin concertos by N.W. Gade, Lange-Müller and Rued Langgaard, in particular, has enjoyed great international acclaim – bringing her, amongst other things, an invitation to play Gade's Violin Concerto with the Chicago Philharmonic Orchestra. Danish music is in general a very big part of Christina Åstrand´s repertoire. Her aim is to further the knowledge of Danish music, both in Denmark and abroad and is doing so in her choice of repertoire and with her many CD recordings.
She will continue her quest for Danish music this autumn, 2019, when she will be recording Danish violin romances for violin and orchestra with the Turku Philharmonic Orchestra – entirely unknown pieces of music, which she had found hidden away in the Royal Library in Copenhagen. The CD will be released on Dacapo in 2020. Several Danish composers have composed and dedicated works to her, a. o. Pelle Gudmundsen-Holmgreen, Poul Ruders and Hans Abrahamsen, the latter with whom she has a long-standing collaboration. With Abrahamsen she founded Aarhus Sinfonietta.
Hans Abrahamsen has composed the two solo violin pieces "Capriccio" and "Herbstlied" for Christina Åstrand. The latter will be recorded in August and released on cd together with Allan Gravgaards Double concerto and Pelle Gudmundsen-Holmgreen "For violin and Orchestra" in spring 2020. Chamber music plays a big part in Christina Åstrand´s repertoire. Since 1995 she is concentrating her chamber music work in the Duo Åstrand/Salo with husband and pianist Per Salo. Together with Danish National Symphony Orchestra, they have commissioned a double concerto for violin, piano and orchestra, which will be premiered in September 2019. The Duo has recently been studying Friedrich Kuhlau and his works for violin and piano. This has resulted in two cd releases and a sheet music publication on Edition S of Kuhlau's eight violin sonatas. So this fantastic, forgotten music can be heard and performed by other musicians.
In Denmark Christina Åstrand has received numerous awards and prizes – a.o. The Artist Prize of the Danish Music Critics.
Premieres
Pelle Gudmundsen-Holmgreen "for violin og orkester" with Danish National Symphony Orchestra
Niels Rosing Schow "Trees" with Danish National Symphony Orchestra
Poul Ruders "Sursum Corda" with Danish National Symphony Orchestra
Anders Koppel "Double concerto" with Bjarke Mogensen and Danish National Symphony Orchestra
Svend Nielsen  koncert for violin og strygere" Århus String Orchestra
Hans Abrahamsen: "Capriccio" for soloviolin, 1990, tilegnet CÅ
Kasper Rofeldt: "Nightsong" 2014, tilegnet Christina Åstrand
Anders Koppel "Duo" for violin og klaver, 2008, Duo Åstrand/Salo
Pelle Gudmundsen-Holmgreen – Near still distant still
Søren Niels Eichberg – horn trio Niels Marthinsen – horn trio
Hans-Henrik Nordstrøm – horn trio
Not premiered yet:
Allan Gravgaard "Double Concerto" with Per Salo and Danish National Symphony Orchestra  
Hans Abrahamsen "Herbstlied"
Signe Lykke: "for violin og strygere"
Palle Mikkelborg: "Going to pieces without falling apart" for violin, harp and strings