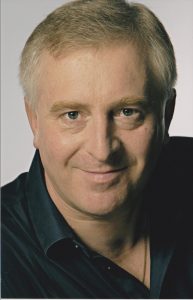 Giancarlo Andretta has hold the position of Principal Conductor and Consultant at the Gothenburg Opera House (2010 – 2013) and at the Opernhaus in Graz (1994 – 1997) furthermore he has been Chief Conductor of the Aarhus Symphony Orchestra (2001 – 2010) and Guest Conductor of the Danish Royal Opera House in Copenhagen (2001 – 2010). Previously he was Chief Conductor and Artistic director of the Orchestra Filarmonia Veneta (2000 – 2002) and Orchestra del Teatro Olimpico di Vicenza (1997 – 2003). He has been since 2015 till 2020 Principal Guest conductor of the Granada Symphony Orchestra.
On the 8th June 2021 he was named member of the Swedish Royal Academy of Music in Stockholm.
He has been invited to many opera houses in Europe as well as in many prestigious concert halls, festivals and symphonic cycles: the Musikverein and the Konzerthaus in Vienna, the Concertgebouw in Amsterdam and others; the Opera Houses in Berlin, in Zurich, Copenhagen, Stockholm and others, the Radio Philarmonic Orchestra in Munich, Vienna, Amsterdam, Oslo and others, aswell the Antwerpen Philarmonic, Helsinky, Tampere, Dublin, Athen, Budapest, Prag, Lisbon, Bilbao, Rome, Venice, Neaples, Ravenna, Parma and others,
Graduated "Cum Laude" and "Honorable mention" in orchestral conducting at the Academy of Music in Vienna he studied with O. Suitner; t the Vienna Music Academy he also graduated "Cum Laude" and "Honorable mention" also in Korrepetition praxis with H. Goertz. In Italy he graduated in piano, organ and studied composition with B. Pasut.
Winner in 1989 of the "Wuerdigung Preis 1989" of the Austrian Ministry of University and Research and of the "Richard Wagner Preis 1989" of the Richard Wagner Istitution Beureuth-Vienna.
Giancarlo Andretta was awarded several international prices and he began his career (1988 – 1993) as Solo Korrepetitor at the Vienna Opera House (M.° Claudio Abbado jury president) and Studienleiter for the Salzburg Summer Festival (1990-1994). In those years he collaborated in the Wiener Philarmoniker as harpsichordist and pianist (1988-1993).
Winner of an international competition in 2005 he was appointed professor for orchestral conducting at the Royal Danish Academy of Music in Copenhagen, position he kept till 2010. Furthermore he gave and gives master classes in Europe for istitutions as the Vienna University of Music, Zurich University, Gothenburg University of Music, Antwerpen University of Music, Wiener Staatsoper Opera Studio, Copenhagen Opera Studio, Oslo Opera Academy, Milano, Bologna, Padova Conservatori and others.
On Stage represents Giancarlo exclusively in Denmark, Sweden, Norway, Finland and Iceland.